Introducing:
Bay of Plenty Blackberry & Kanuka Leaf
New to our A-Series premium collection of organic kombucha.


Organic, traditionally brewed kombucha
Choose our core series for fruity flavours, or celebrate New Zealand's top fruit-growing regions with the 'A' series—our first ever premium kombucha range.
Bubbling with gut-loving bacteria
BioGro organic certified for your peace of mind. Our organic kombucha is naturally fermented, hand-crafted the way our family has been doing it for decades.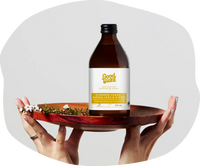 Introducing the New Zealand Crafted 'A' Series
A cut above our core series, this hand-crafted range of premium kombucha celebrates some of the best fruit-growing regions of Aotearoa, New Zealand. Gently brewed by our founder Amber Campbell over two weeks with our organic culture of bacteria and yeast to deliver a unique brew that's made to help maintain and support ora (wellbeing).
Shop 'A' Series
Straight from the source
These are my absolute favourite kombucha! They have no stevia so none of that funky taste.

— Rachel L.
No other kombucha compares.

Kathy M.
The closest to home-brewed that I've found.

Cathy F.